Radical Books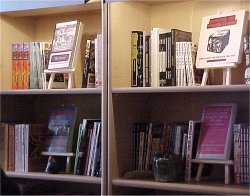 To cover some of our costs, we have also started a small bookstore of radical, progressive, and anarchist books. We hope to increase our selection soon enough but as of now, we do have an interesting cross-section of titles.
Update 11/10/2004
We have added an online cart to our website where we feature many of the books we have available and which you can use to purchase some of these fine products! Remember, all of the money made goes back into keeping this space open, none of us get paid. Seriously, NOT ONE OF THE VOLUNTEERS GET PAID, not even a cent! All monies go to rent, utilities, and book companies. Click Here for the Online Cart
Update 10/15/2003
We have added some more titles, check out this link for the recent additions Here
Update 6/4/2003 Our bookstore has expanded! Thanks to some generous donations and keen eyed book scouts, we now have a unique and hand selected assortment of used books on many subjects. We've attempted to carry books you'll be unlikely to find at other places including: radical politics and history, culture and race studies, DIY, ecology, feminism/women's studies and some good stuff en espanol tambien! Students, we have many used copies of classic and contemporary literature.
On Saturday June 28th 2003 from 10-3pm we will be having an open house to celebrate our growing bookstore. Please join us for refreshments, raffles, and other goodies. All books will be on sale. Could you ask for any more of an incentive?
We can also special order books. All proceeds of book sales go to keeping our all-volunteer-not-for-profit project alive.
Update 11/19/02 We have the 2003 Slingshot Organizer in stock, $6. Come get'em while they last. Also, we are having a big book sale on Saturday Nov. 30 from 10am-6pm. Come pick up some gifts for your friends! More info Here
Update! 7/29/02 We've just stocked up on lots of new books, including lots of Spanish titles from Virus, the latest Aufheben, and even some decent used books that help support the Prisoner Library Project. The above link with booktitles will be updated soon but for now just stop by and check it out.