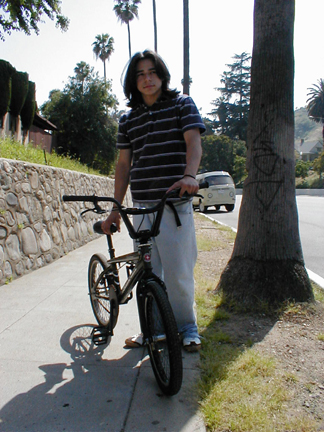 Jesus and Jerry
Green GT and Schwinn Powermatic
"I like my bike 'cause it's green"
"I like my bike 'cause it handles bumps and jumps"

Bothered by having to push their bikes up a steep hill in their neighborhood of Northeast LA, they quickly agreed that going up hills is the hardest part of biking. Both got their bikes from friends. They use them to get around on the weekends but not to get to school. Jesus likes his bike because "it's green and gets him around faster" while Jesus likes that his can handle "bumps and jumps". Jesus was adamant about not being photographed though proud to have his bike in the picture. Jerry happily posed with his bike.